Case Study: Delta Protective Services
October 25, 2019, 5:26 PM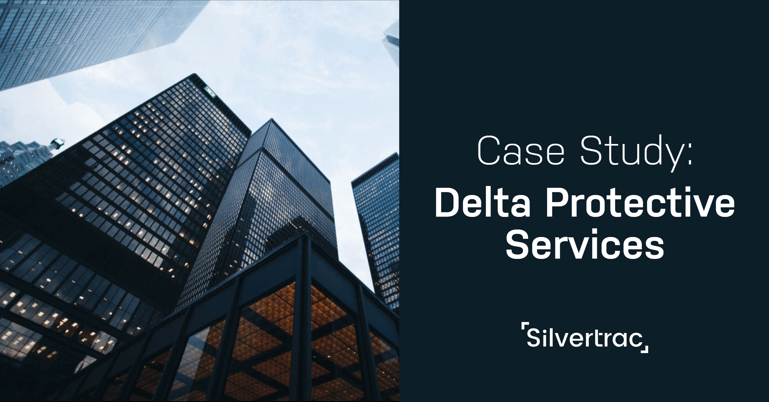 We sat down with Lawrence Borgens - founder of Delta Protective Services - to ask him about the process of switching his security company from paper reporting to Silvertrac. Delta Protective Services (DPS) was founded 26 years ago in 1993 on a mission to "create safe communities." They have since grown to an operation of 85 officers, including standing guards and mobile patrols. Lawrence is focused on growth and making it easier for people to become customers.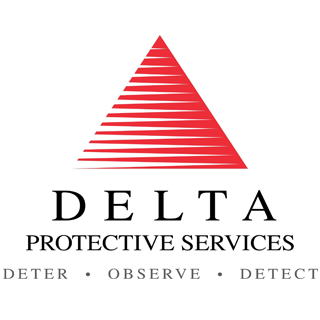 Information Can Make or Break an Operation
Like many other security companies before the rise of computer technology and the internet, Delta Protective Services (DPS) handled security reporting through paper Daily Activity Reports (DARs). It didn't take much for DPS to be fed up with their antiquated paper reporting system. After only a few years they "had pieces of paper coming out of [their] ears and [they] were running out of space to store [reports]." Getting paper reports to clients was a disaster: information was incomplete or incorrect; reports were lost when officers slipped them under clients doors DPS knew they needed a better solution. They first looked to traditional guard tour tools like Deggy wands and buttons, but quickly found that they "were very cumbersome. It was electronic, but also pretty primitive".
The Desperate Need for Change
Lawrence was determined to find the best solution for his company. He couldn't go back to paper reports, but the Deggy wand and button were not getting the job done. After talking to another local security company owner, DPS implemented an early version of Silvertrac - called Real-Time DAR - in addition to the Deggy system. Once Silvertrac was fully released, they started using it at a few of their locations in addition to Deggy and Real-Time DAR.
Delta Protective Services had quickly gotten into a mess. They were running three separate electronic reporting systems between all of their locations.
"I came to a point in my company and in my business where I knew I just needed to land on something. My indecisiveness about selecting a reporting tool was making my staff indecisive also".
Supervisors and account managers couldn't work together on three different systems. It was clear to Lawrence that software on its own wasn't the solution. He needed the right solution for his entire operation.
Searching for the Right Solution
Choosing the right guard management solution wasn't an easy task for DPS. After numerous conferences, conversations with other company owners and multiple product demos from Tracktik, Trackforce, and others, Lawrence found that "there were pros and cons to every solution." But at the end of the day, Lawrence chose Silvertrac.
"Let's just say, for the sake of argument, that all the technologies were equal. Here's what caused me to make my decision. Silvertrac absolutely cares about, thinks about and produces good quality tools for security business owners to help them improve their business. [They] come from the industry. [It's] not a bunch of software people that decided, 'Hey, here's a niche we can get into.' No, it's a bunch of security guys that saw a problem and worked their asses off to become software people so that they could fill this gap and provide this service that we need in our industry. What's important to Silvertrac is that their customers win".
Delta Protective Services Today
Two years after fully moving away from paper incident reporting, Lawrence found the right solution for his company. Immediately he saw a big difference in two areas.
Accurate Reporting
"Silvertrac makes what's invisible, visible." Lawrence would not let this go. He and his management team have been able to increase quality control. He has gained full transparency over every part of his operation; from the officers to management to customers, everything is out in the open. "If I have a good officer, you see it. If I have a bad officer, you see it. I can't hide anything from my clients and that's OK with me. What makes us different than our competitors is how we deal with our mistakes, not that we don't make them because everybody makes them."
As a result, Lawrence can make current and potential customers believe in his services. It is pretty much an expectation today that a security company has a guard security guard management software. But it's not the software that sets Delta Protective Services apart. Lawrence has been empowered to provide his customers with the information they need to trust him. "If you've got a client that's awake at 2:00 AM looking at the computer, they can log in and watch the officer do rounds while they're doing it and see the pictures and see everything that's going on."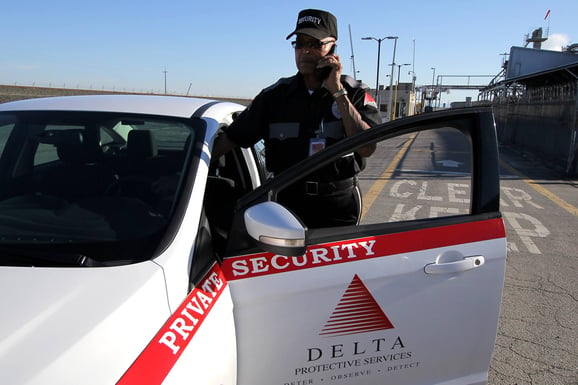 Increased ROI
Delta Protective Services used to have cabinets at every job site. These cabinets had - on top of mountains of paperwork - radios, phones and cords. Many of you can see where this is going. Lost paper reports meant no information for clients or for management. Lawrence couldn't improve the decision making for his operation. Company-owned technology was breaking regularly. Not only did DPS have to pay for the fixes, but managers, field supervisors, and sometimes even Lawrence himself had to show up to a job site to replace chargers, phones, and radios that were either broken or forgotten. All of this resulted in wasted time, money, and resources.
Luckily Lawrence came up with a solution that worked for him. He purchased Silvertrac licenses for his officers' to use on their personal cell phones. Learn more about his decision-making process in this awesome podcast.
"I got rid of all my cell phones. It allowed me to also get rid of two-way radios. It also allowed me to get rid of the paper DARs and all the documents that go with it. Therefore, I also get rid of the cabinets that we were keeping at the job sites".

Get the Results You've Always Wanted
Lawrence found amazing success once he figured out how to simplify his operation and prove the value of his services to customers. You can find success just like he did. Our mission is not to sell you a product. At Silvertrac, we win when our customers win. We want you to win more contracts, hire better employees, and meet the goals you've always wanted to achieve. Schedule a demo today to find out how you can simplify your operation and prove your company's value.