3 Reasons Every Security Company Should Provide a Summary Report
August 22, 2018, 12:00 PM
In most cases, security is viewed as a cost center. And buyers are more cost sensitive than ever...
Which means that companies competing on quality of service (rather than price) have to communicate value both in the sales process and on a monthly basis after the account is secured.
And that's where the security summary report comes in.
What is a Security Summary Report?
A security summary report helps the buyer understand all that goes into providing a quality service. When done correctly, the summary should provide data and insight into the security program.
A summary report can be different for every company and post. But a quality report will include 3 items:
Account for all of the routine, preventative measures taken. This includes all the property tours, positive contacts, supervisor visits, on-site training, and anything else your team does to add value at the property.


Account for any of the cautionary items that were discovered. Any open door found, slip/trip/fall hazard, broken lights or sprinklers, after-hours facility use, etc. These aren't the items you call your client about overnight, but they're valuable discoveries that should be noted in the summary.


Account for all incidents. Pretty straight forward here. Any incidents that happened on site should be included in the summary as well.
Here is an example of a summary report created using Silvertrac's incident reporting software: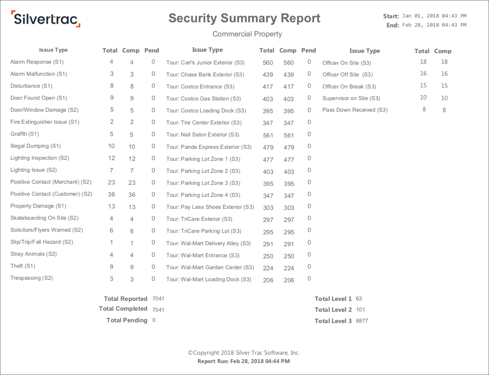 Now that you know what a summary report is, let's talk about why you should make these reports a part of your standard client communication.
#1 Proof of Value & Quality
The security report is valuable because it is tangible proof of the quality service your company is providing.
When there is a decrease in reported incidents, the last thing you want is for clients to reduce the budget or service hours. So it's important to show the correlation between the service you provide and a decrease in incidents.
It also helps justify the budget. If competitor walks into your client's office and offers $2 less per hour on the guard rate, you want them feeling confident in the service you provide.
The summary report is a critical part of winning the confidence of your clients.