Thinkcurity Announces Inaugural Virtual Physical Security Summit
August 24, 2020, 10:57 PM
The Thinkcurity website was launched in July 2020 as the central hub for online learning and networking community in the physical security industry. Visitors can find amazing content in the form of webinars, articles, and downloadable tools and resources. Now, Thinkcurity is proud to announce its first-ever Virtual Physical Security Summit.
What is the Virtual Physical Security Summit?
This virtual event is scheduled for October 6-7 and will offer all of the benefits of an in-person physical security conference. In an effort to make this much-needed content as available as possible, the entire Virtual Physical Security Summit is completely free to attend.
Sign-Up Now to Secure Your Spot!
Attendees will get access to 2 full days of learning through keynote speeches from security industry experts, roundtable discussions, and live Q&A sessions. Speakers will be covering topics including Security Operations, Workforce Management, Compliance, and more.
6 Reasons to Attend the Virtual Physical Security Summit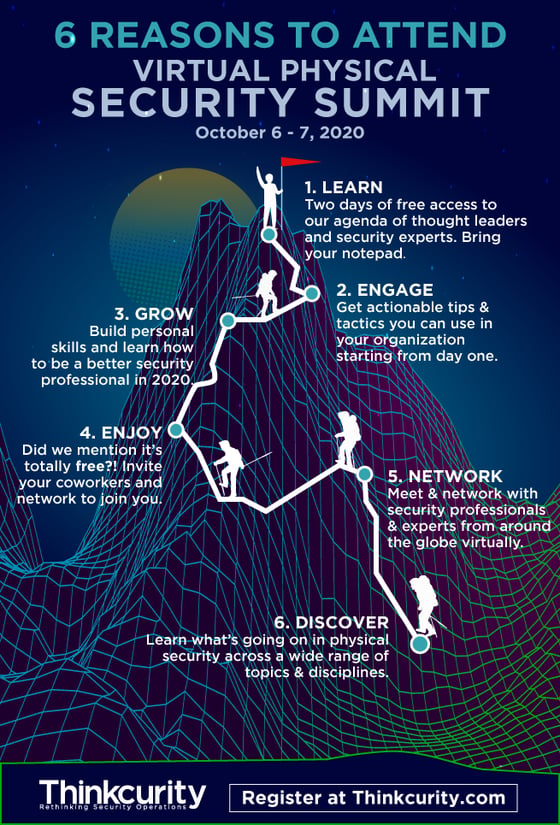 Learn - Two days of free access to our agenda of thought leaders and security experts.
Engage - Get actionable tips & tactics you can use in your organization starting from day one.
Grow - Build personal skills and learn how to be a better security professional in 2020.
Enjoy - Did we mention it's totally free?! Invite your coworkers and network to join you.
Network - Virtually meet & network with security professionals and experts around the globe.
Discover - Learn what's going on in physical security across a wide range of topics & disciplines.
What is Thinkcurity?
In 2019, Silvertrac launched the Thinkcurity webinar series as a wing of the Silvertrac Extra with a mission to provide the best thought leadership, training, and information to the private security industry. In July 2020, the Thinkcurity brand went to the next level with the launch of Thinkcurity.com.
Stay Updated
Speakers are currently being secured for the event. To stay updated on speakers, topics, and agendas, sign up for the summit mailing list and follow Thinkcurity on Facebook and LinkedIn. If you have any questions, reach out to info@thinkcurity.com.