3 Security Email Templates That Will Help You Win More Contracts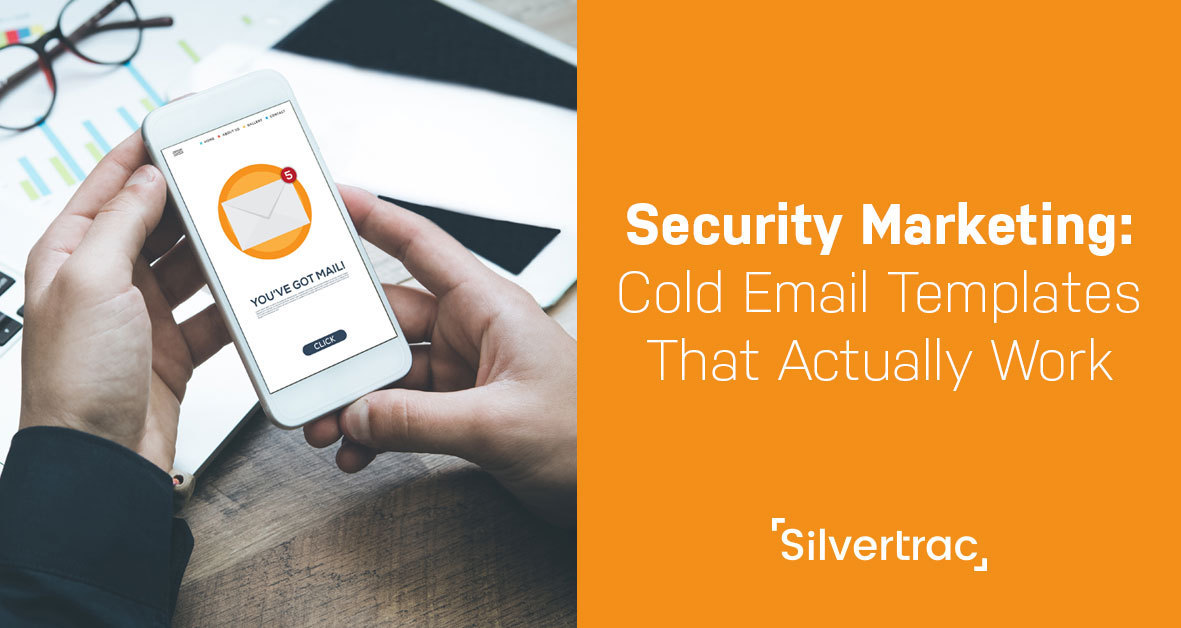 Security companies rely on cold email outreach strategies for marketing and making sales. Even though the success rate isn't always great, unprompted emails to property managers are still one of the best ways for security companies to land new contracts.
But sending cold emails isn't a "set it and forget it" process. Everyone uses cold sales emails today, which makes getting an email into someone's inbox and actually convincing them to open it is harder than ever.
Spam filters are more sensitive than ever. As a result, many emails never reach the recipient. Plus people are a lot more cautious about scam and phishing emails now than ever before.
On average, just 1% of cold emails will be opened and read by recipients. For perspective, if 3-5% of your emails are getting opened, that's a home run by most standards. Thankfully, sending cold emails that get you to that 3-5% open rate and beyond is achievable with strategy.
So how do you write cold emails that convert? These 3 security email templates are written with proven strategies that make the job easier for private security salespeople:
Method 1: The "Right Contact" Email
Asking a lead if they're the right point of contact is a proven cold email strategy that has been leveraged forever. Why? Because it works.
The "right contact" security email template is designed to target decision makers who don't normally respond to a cold sales email from a salesperson. The subject line in a "right contact" email should make the recipient curious, leading to more clicks. and can lead to your request being delegated to a more appropriate contact.
Subject Line
Are you the right person?
Body
Hello [prospect first name],
I'm writing in hopes of finding the person at [their company name] who handles the security service at [property name].
I also reached out to [colleague 1] and [colleague 2] to try and lock down the person in this position. If you're the best person to chat with, let me know. I'd love to schedule some time to talk about [your company name].
We help organizations like [their company name] get more out of their security budget. We've worked with others in your industry including [company 1] and [company 2].
Please let me know if there is someone else I should connect with.
Best,
[Your name and position]
Method 2: The Problem-Focused Approach
This template is designed to catch the prospect's attention by pinpointing a problem and offering your ideas for solving it.
For example, the security email template below speaks to property managers who are frustrated with their current security service. The email focuses on a problem (wasting time managing security officers) and tells the property manager what they can do to solve that problem (the services you will provide if they hire you instead!).
Subject Line
Managing security officers is rough. Let us help.
Body
Hello [prospect first name],
Managing security officers is probably at the bottom of the list of things you want to spend time on.
You should be spending more time on renewing leases or filling vacancies and less time dealing with security officers, daily activity reports, and property walks.
[Your company name] helps property managers focus on what they do best while we:
- Conduct daily property walks to note and prevent any slip/trip/fall hazard
- Provide color-coded daily activity reports that help you focus on what matters most
- Compile monthly and quarterly summary reports that make meetings with your colleagues run smoothly
If you're tired of fighting underperforming security officers and need some help, let's schedule a time to chat.
What's your calendar like next week?
Best,
[Your name and position]
Method 3: "The Other Guy"
Sometimes closing new security contracts means getting brutally honest.
This security email template targets property managers who are currently clients of your competitors. You want to establish yourself as the company they can turn to when their current security provider isn't doing the job. Everything they can do, you can do better.
But how do you get insider information on your competitors' accounts? One of the best tactics is asking your own security officers. There's a good chance you'll have an officer that has worked for a competitor in the past or maybe they even have friends who work for them now. Make a competitor's turnover problem your strength.
Subject Line
How's [competitor company name] working for you?
Body
Hello [prospect first name],
I understand that you may be using [competitor company name], and I was wondering what kind of results you've seen so far.
I've met a handful of companies using [competitor company name] who have had issues with security officers not showing up, falsified reports, and officers falling asleep.
In fact, many of these companies have turned to [your company name] for assistance and seen a huge increase in value and productivity from their security budget.
I've got a bit of availability on Thursday and Friday this week if you have time for a quick call to discuss.
Best,
[Your name and position]
Closing
If you're using one or all of these security email templates and you're still not getting the results you want from your cold emails, there are a few things you can do to supercharge your efforts:
Do more research. Quality beats quantity. There's a reason the problem focused email template is popular. The more you know about an account, their issues, and how to solve those issues, the more likely they are to trust you and respond.
Add video. You can use video in any of these 3 security email templates. Silvertrac uses a tool called Vidyard to upload short, personalized clips to emails. When potential clients can see your face and hear your voice, it makes you more relatable and more trustworthy - two characteristics that help a lot in the private security industry.
Try, try again. You might be giving up too early. Email is a long game. Sometimes it takes five or ten well-researched, personalized messages to get someone's attention. Use a combination of these email templates and more personal emails that will give you more chances for success.