7 Pieces of Protective Equipment for Every Security Patrol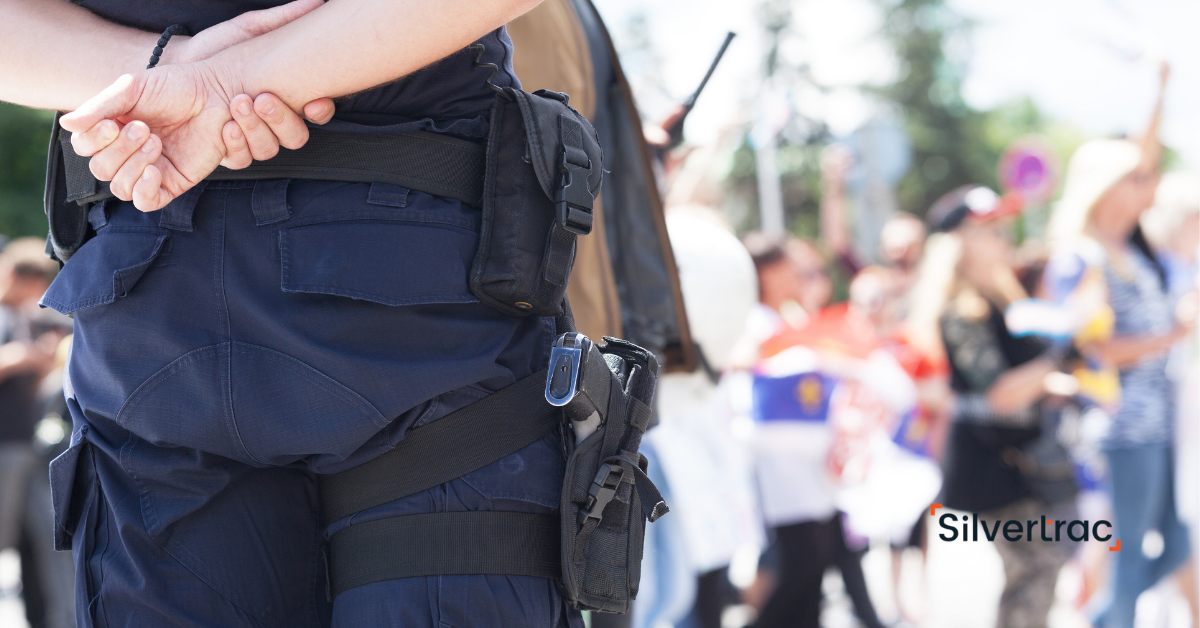 Security guards are hired to primarily serve two purposes: protect people & property and report incidents back to their customers. They play an essential role in keeping workplaces, shopping malls, banks, and even restaurants safe from mischief or criminal activities. They are often an oversight to the untrained eye but are important in maintaining the safety of employees, property visitors, and their customers.
But an often-overlooked factor is the precautions that must be taken to protect the security guards themselves. While there is a lot of security who work low-threat shifts, there are many more who engage in dangerous patrols. Areas with heavy crime rates, night shift guards, and executive protection officers are often armed to protect themselves, their team, and the property they have been contracted to work. But with rising crime rates and more security officers working dangerous rounds across the country, it's becoming more commonplace to see even low-level officers using tactical style security gear in addition to company uniforms to keep themselves safe on their rounds.
So we took the time to list 7 pieces of security guard equipment & accessories that should be used on every modern patrol to ensure officer safety.
Armored Vests
An armed security guard could be at the highest risk of danger in an intense situation, even if they aren't the only one in harm's way. And sometimes having a self-defense weapon isn't enough; that is why armored gear is becoming essential for every guard. Personal protective equipment (PPE) like bulletproof vests and body armor can be the difference-maker in a lot of dangerous situations. Especially when the rate of guard casualties has been on the rise due to violent encounters on the job.
A high-quality vest will protect officers from a range of violent incidents like gunshots, stabbings, and ballistic shrapnel. But selecting the right vest comes down to the type of patrols a guard will be employed to work. Officers working high-risk environments, like banks or armored vehicles, should be using armor-piercing ballistic protection. Compared to a mall guard who likely only needs a stab-proof jacket or vest. Either way, wearing these protective pieces of equipment will grant a guard a much higher level of safety so they can respond to threats more effectively.
Heavy-Duty Footwear
Ask any security guard who has worked a full week's work what their most important piece of equipment is and they will likely all say the same thing: boots. Heavy-duty tactical boots are an essential part of any security, defense or law enforcement position. Patrolling security guards are typically on their feet for the majority of their shift, so it's important to select a pair that are comfortable enough for all-day use.
Choosing a pair of security boots that are light & flexible for multiple terrains is just as important as the comfort level, as guards who are moving from site-to-site must be adaptable. Many guards opt for booths with ankle protection to help support carrying the load of the rest of their gear.
Also, it's important to not "cheap out" on a new pair of boots; they are a tool & investment, so take your time and choose wisely.
Mobile Phones
Smartphones have become an essential piece of security guard equipment in recent times. Letting a guard walk their rounds without a smartphone is a huge mistake, even if they already have a two-way radio, walkie talkie, or earwig. Even though they are an industry standard, two-ways are only designed for short-distance communication. As more security companies secure contracts across cities, counties, and states, it's important to have other means to deliver important information to all required team members.
In a lot of cases, security guards are the first ones on the scene of an incident. A walkie talkie allows limited range between properties & first responders, so companies are forced to find another means of communication. Outfitting a security guard with company-provided phones, or having them bring their own devices, will allow staff to communicate information instantly. And if a situation gets out of hand, they can report back or call 911 directly.
Plus, the adoption of mobile security guard apps in recent years have allowed guards to ditch the pen & paper daily activity reports and relay information like security, maintenance, or parking issues directly to their supervisors or customers.
Protective Guard Booths
If you think guard booths are just for rest breaks, you are wrong. Security guard booths, also known as guardhouses, provide unrivaled protection from the elements and an extra layer of protection for security officers.
For guards working standing shifts in areas with inclement weather, a guardhouse can make all the difference in the world. They allow officers to control visitor flow, parking management, and watch surveillance equipment all without being exposed to potential threats or bad weather.
Guard booth manufacturers like Guardian Booth offer a range of prefabricated booths and customizable options to meet the property requirements and keep the guards as safe as possible. The guard shacks of today aren't just four walls and a roof; many high-quality builders offer options designed specifically to protect the guards while on duty. Bulletproof guard shacks built with ballistic resistant materials are becoming more common in high threat areas, but they can be very expensive to acquire in comparison with a regular guard booth. However, these expenses can be absorbed by the property owner as part of the contract negotiation process if bullet resistance is necessary.
Security Torch
Every guard needs to have a high-quality security torch or flashlight.
A heavy-duty flashlight will help security guards keep a strict check around properties at all times of the day. Not only can it serve as a vision booster at night, but it serves as a useful self-defense tool. So carrying one during the day is still perfectly useful.
Most people think of flashlights like the Maglite Heavy Duty D-Cell when purchasing their first security torch, but times have changed. Flashlights today are lighter, brighter, and offer more tactical options than the traditional entry-level torch.
When you are looking for a new torch to add to your utility belt, look for options like:
LED Bulbs
Rechargeable Batteries
High Lumen Output
Good Light Coverage
Long Run Time
Water, Shock, and Drop Resistant
Everyday Carry Capability
Guard Belts
Having a ton of protective gear is great, but you still need a way to carry it around efficiently.
A high-quality tactical belt is the answer.
Being able to keep your hands free is the primary feature a guard should think of when deciding what type of belt to use on the job. Most guards can get away with a traditional uniform-matching belt, but others find it more convenient to use a utility duty belt. A proper utility belt provides easy access to other equipment like keys, gloves, flashlights, pepper spray, handcuffs, and whatever else is part of a guard's everyday carry.
Lone Worker Alarm
In many situations, your guards will be working on their own.
With a lone worker alarm system, you can easily detect if a dangerous situation arises. Finding a guard patrol tracking system that utilizes GPS tracking can help protect your guards by ensuring they are where they are supposed to be. In case of emergencies, guards can raise the alarm and alert the rest of their team, as well as local emergency personnel.
While all of these products won't be a necessity for every shift, it is becoming more commonplace to see guards in the field using this type of gear. Increasing the utility of a guard can help improve guard effectiveness and as such, improve the security of your people and property. But in the end, it's all about protecting guard safety.