5 Low-Cost Ways to Improve Your Security Marketing Strategy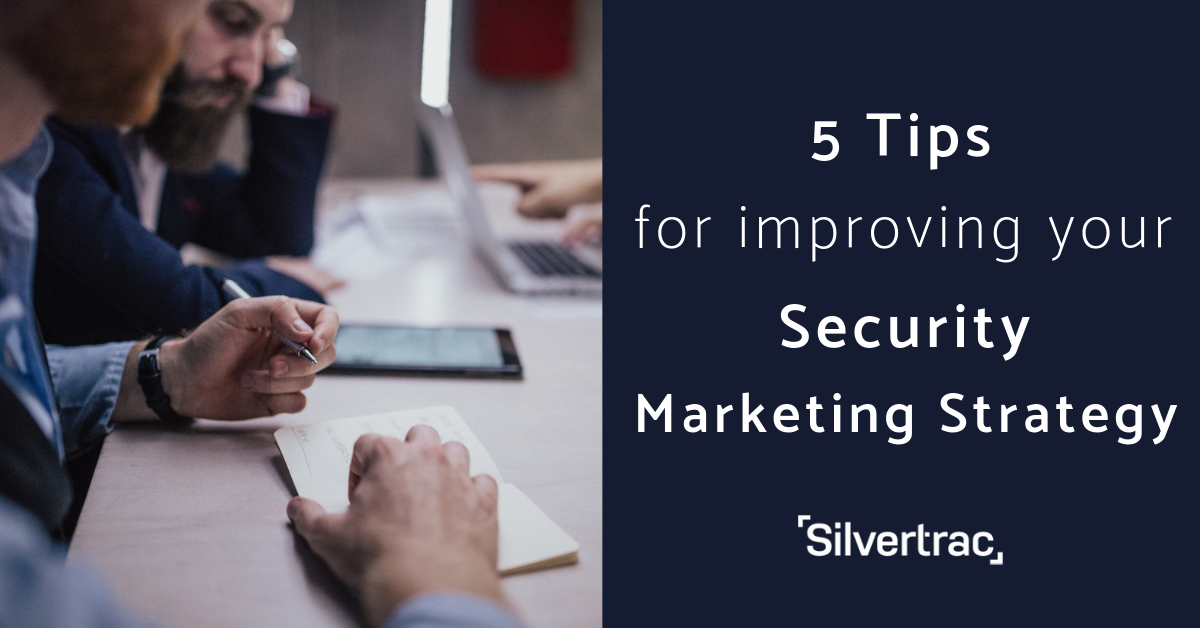 Security is an extremely competitive industry. In the current economic climate, you are probably feeling the pressure to win contracts and meet your tight margins more than ever before. While the initial reaction might be to cut your rates or slash overhead to remain competitive, the right private security marketing strategy can have tremendous impact.

That's why we'll share our top five low-cost tips to create a marketing plan that helps you maximize your margins and compete in the marketplace.
1. Differentiate Your Business
In the security industry, it's critical to stand out. One way to do this is by using strong customer value propositions (CVPs) that set yourself apart from the competition. Without strong CVPs, price becomes the only real way for potential clients to tell your company apart from the rest of the pack.
[Download our free handbook to learn how security managers can grow their business by focusing on client success.]
Great CVPs speak to a prospect's needs and understand the language they use. Many security professionals will market in a way that appeals to their own sensibilities, rather than those of their target clients. On the other hand, smart marketers will:
Explain how their service solves a specific problem
Present quantifiable results of their services
Offer specific reasons why their company is better than competitors
Directly address specific pain points
For example, rather than saying "We have 50 years of combined security and law enforcement experience," be more specific about how you provide what your clients wants and need. So, you might say: "We've been fulfilling the security needs of homeowners' associations for over two decades."
2. Review Your Pricing Strategy
Keeping your prices low is one surefire way to win more bids. However, that's easier said than done. When your prices are too low, you put yourself in an unsustainable position. Set your prices too high and you'll quickly get undercut by competitors.
So, what should you do?
One approach is to review your desired profit margin and overhead costs to determine the best rate you can offer clients. We offer free calculators to help you crunch the numbers on our website.
You should also remember that companies that offer better services can charge more. Learning how to justify why your company may cost more than competitors is an important skill.
Coming to the table with strong CVPs will help you justify a higher rate. For example, guard management software that makes you more accountable than the next company makes you worth more than them, too. Little things like clean uniforms and better communication channels will also add value to your company. Good reviews and testimonials go a long way toward proving your value.
3. Create Better Contract Proposals
Proposals should be designed to set the hook early. What's the hook, you ask? A powerful differentiator, of course!
Property managers won't always read your proposal from cover to cover. In many instances, they'll skim the beginning and then flip to the back to review your prices. If you don't catch their attention in the first couple of pages, they will go straight to your rates. At that point, you've lost all leverage in the conversation.
Propose a strong value-adding differentiator early in your proposal. Tell your client what you can do for them and offer evidence on the first page if possible.
Remember, the proposal isn't about you, it's designed to address the needs of your potential client. If you're spending time touting your services rather than telling them how you can solve their specific problems, you aren't making the connection you need to land the contract.
4. Do Your Research
A good security marketing strategy doesn't just involve branding and advertising — it also includes understanding the individual needs of specific prospects and allowing them to guide your approach. Often, adjusting and improving your contract proposals to meet those needs can be the difference between a win and a rejection.
Step 1: Get Client Feedback
Interview your prospects about their experiences with previous security companies to get a better idea of what their specific frustrations might be.
If they're in the market for a new security company, chances are they have some feedback to provide on the company they just fired. That feedback can be integrated into your value propositions to improve your chances of connecting with similar leads.
Learn what their customer value propositions are and their rates to understand the value you offer in the marketplace. Then capitalize on what sets you apart from the competition. And use this research to find any major gaps in services in the marketplace.
You might find that clients all want a specific service or experience that no one else offers. If you can offer that service, it can be a game changer.
5. Check Your Reviews
Online reviews are very important to any security digital marketing strategy. Property managers will check your company's pages on online review sites, such as Google and Yelp. If they don't find satisfied clients, that significantly reduces your chances of landing the deal.
Improving your reviews requires attacking the problem from both ends. Politely reach out to anyone who might have given you a negative review and see if you convince them to change their rating. At the same time, encourage and incentivize existing clients to leave you great ratings online.
Benefits of a Marketing Plan
Having the right security marketing strategy in place is more important than merely cutting overhead and slashing prices. When you take these five steps, you position yourself more strategically in the marketplace. Taking these steps will help:
Increase your exposure and visibility in the marketplace

Attract new customers

You hire the best talent in a competitive landscape where competition may be firing and not providing as high a value to employees

Win more contracts. This will have a much more positive impact on your business over time, especially to get through tough economic times.
None of these marketing initiatives require hiring an expensive agency or learning special skills, but each of them can improve your chances of winning your next contract. In other words, taking small steps to improve marketing efforts can have big effects on your bottom line.