7 Ways to Research Your Competitors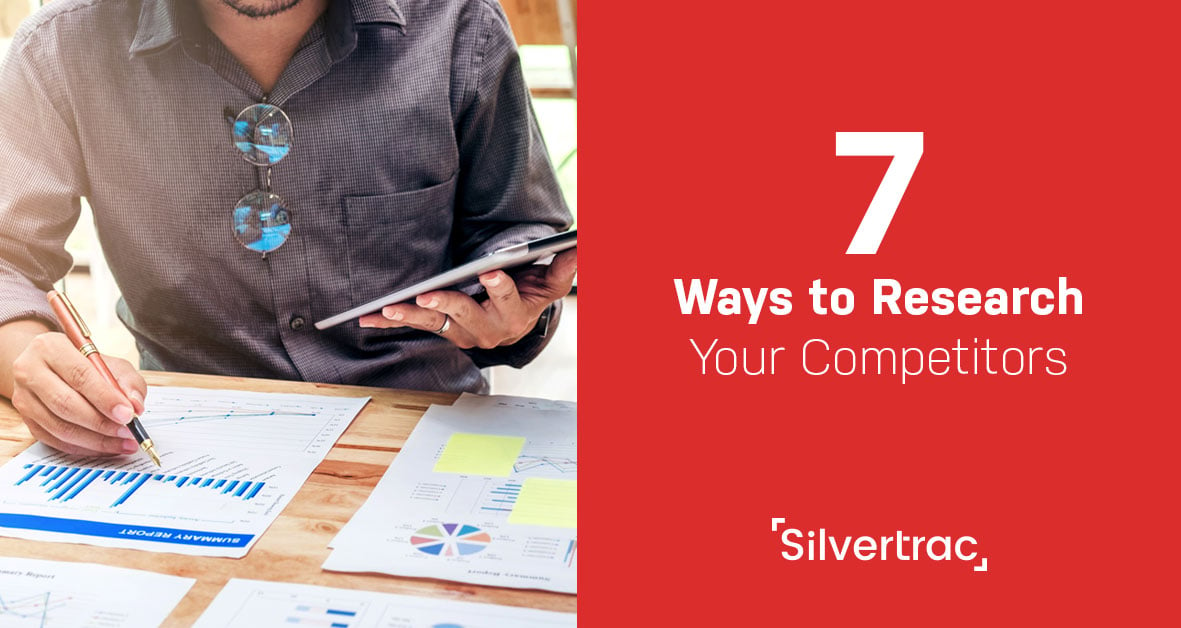 Tight margins and increasing competition make it essential for security firms to stay up to date with business trends. To compete for talent and contracts in this economy, you need to thoroughly understand where you stand in the competitive landscape.
Knowing how to research your competitors—their operations, prices, and how they provide value to their clients—gives you an advantage when it comes to your own business strategy. We'll share how to start researching your competition in private security to:
Improve your business model
Enhance your understanding of your customers and what they value
Explore the services your competitors offer to find opportunities to expand your services
Grow your business and maximize your margins
How do you effectively research your competitors? Here are 7 tips:
1. Do a deeper digital dive.
Chances are, your first stop for competitive research will be a Google search. Most companies maintain a website and keep a presence on popular websites like Yelp and Facebook. This is a great place to start.
Tips for researching local security companies online include:
Searching for "security guard companies near me."

This will show you who is appearing in search results, what their customers are saying in reviews, and how your competition is positioning themselves in the marketplace.

Checking out the competition's websites to learn what services they are offering.

Auditing what your competitors provide compared to what you provide is a great way to find opportunities to grow your business.

Research the markets that your competition is already working with.

Are there new markets that you could expand your business to?

Look at the competition's customer reviews.

You can learn a lot about what your competition is doing well from reviews. But the real value here can be looking at what they do poorly. If they constantly get negative feedback for something that you do really well, you can capitalize on that in your website and advertisements.

Analyze your competition to find service opportunities that are currently lacking.

What do none of your competitors do? For example, you might have the opportunity to start providing personal bodyguard protection or special event security if that is lacking in your area.
Once you thoroughly check out your competition via Google search, their website, and their social media profiles, it's important to do the same analysis of your own website.
What are your opportunities for improvement based on what you've discovered? Take the time to make improvements to your website to meet local demand and stand out from the competition.
2. Tap into social networks.
A good number of security firms use social media to engage with their customers and promote their services. When you want insight into how your competitors talk about themselves to their customers, social networks like Facebook, Twitter, and LinkedIn are the place to look.
You can now view a wealth of data about the ads any company runs, including a full view of the ads currently running in your area. Check out how your competitors are using Facebook advertising to their advantage. As a bonus, you can pick up ideas on how to better manage your security firm's digital marketing campaigns.
You can also use social media to research what customers are saying about your local security competitors. Few things are as valuable as learning how and why your competitors aren't meeting their clients' expectations. Customer sentiment research is easy using popular freemium tools like Mention.
3. Keep an eye on their new hires.
Another tip for researching your private security competition is to look at their hiring practices on sites like Indeed and private security firm websites. Look at:
Are they hiring on job boards? Is this often or sporadic?
What types of positions do they have open?
What is their reputation on hiring sites like Glassdoor?
Finding the answers to these questions can tell you a few things that will help you compete for talent. If your competition is hiring a lot of new officers, this could be a sign of them growing quickly.
Be careful not to make too many assumptions though. This could also be a sign of high turnover, which might mean your competition has a toxic or burnout culture. Referencing employee reviews on Glassdoor can help you paint a full picture and understand what culture is like at competing companies.
A better indicator of growth would be more job openings for managers and supervisors, especially if they are hiring in new turf.
4. Check with local organizations.
Not all competitor research happens online. Getting involved with your community puts you face to face with real people who can offer valuable insight into the competitive landscape.
Public records will document past and present lawsuits, liens, and other legal actions against a competitor. Local organizations like the chamber of commerce, Better Business Bureau, or regional building owners and managers associations usually track local businesses to keep their members up to date on problematic organizations.
In addition, some community registries will list companies that provide security guard services in the area, which can be a source for expanding your research into unfamiliar markets.
5. Go to a conference.
Industry conferences are where private security firms go to show off their stuff. While your competitors are looking to establish connections with new leads, you can use their presentation to glean information about their value propositions and security guard services. Watching their booth can give you an idea of which value props are connecting with visitors, and which aren't.
We recommend checking out one of these security conferences with "topics ranging from restaurant loss prevention and fire safety to government security initiatives and international intelligence sharing."
6. Ask customers.
You probably aren't the first security company a property manager has worked with. The past experiences of your clients are super valuable for researching what your competitors are doing right (and what drove your client away in the first place).
Always ask your new clients about their previous security provider.
How often did they file reports and what methods did they use?
Did they use to document guard tours and reports?
What made you want to switch providers?
Most companies don't take a step back and ask their customers what drives them up the wall. And while you get an idea of what you can do better, you're also getting a peek into industry practices and pitfalls.
7. Ask new hires.
Your new hires are also a source of valuable information on behind-the-scenes operations at competing firms. When you hire people who previously worked for your competitors, you get an on-the-ground view into their operations.
Consider asking these employees:
What was the culture like at this competitor's company?
What did they do well and what did they do poorly?
What do you think our company does better? Could improve?
In Summary:
The importance of having a well-researched understanding of where you stand cannot be understated. Knowing how to collect the right information on your competitors can make the difference when it comes to winning a new bid or saving an at-risk contract.
With the right market understanding of the local security guard market, you can position your company to succeed. With new clients comes new problems. Download The Security Manager's Client Success Handbook below to learn how to drive client and business success.