Case Study: Using Software to Stand Out from the Competition
January 15, 2020, 10:08 PM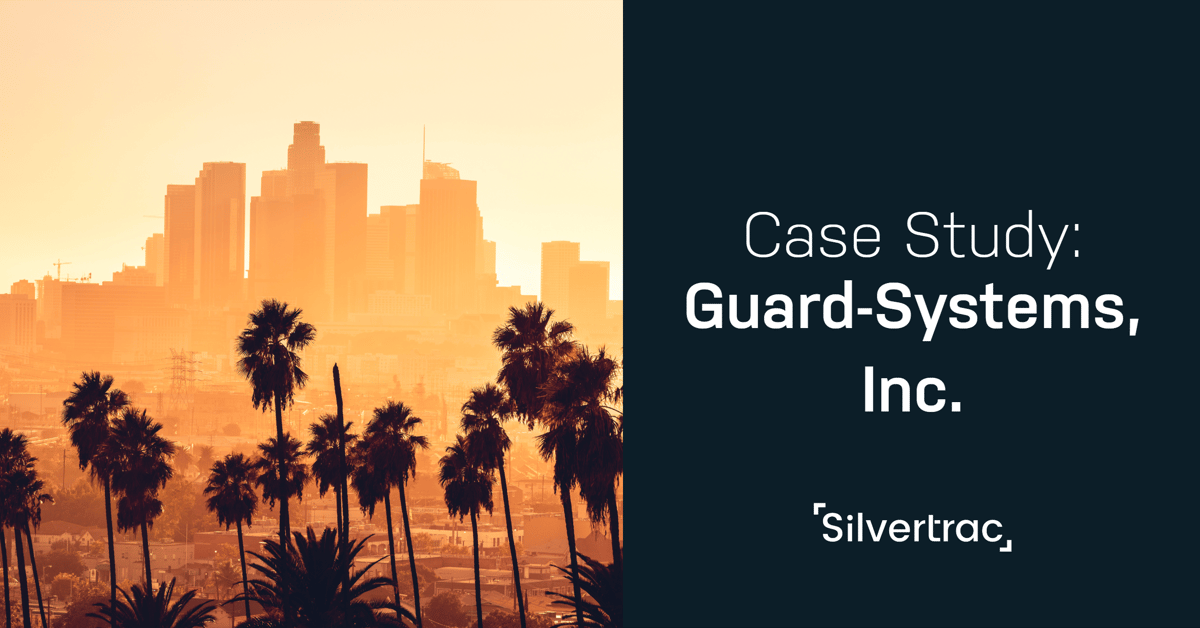 Guard-Systems, Inc. was founded in 1953 and has since grown to become one of the largest privately-held contract security providers in the Southwest United States, servicing Southern California and Nevada.
Guillermo Amador, Executive Vice President of Guard-Systems, sat down with the Silvertrac customer success team to talk about his experience switching a large operation with hundreds of active guards to guard software from traditional pen and paper management.
Limited by Mediocrity
Guard-Systems, Inc. is dedicated to offering a high level of customization, flexibility, and personal service to all of its customers. These are great goals, especially because of the wide range of customers they serve - from gated communities to industrial/manufacturing sites to campuses. But following through on those goals means standing out from the competition.
Successful companies do this really well. They stay on top of the latest trends in their industry and are always ahead of the game. When Guillermo came to Guard-Systems 6 years ago they weren't just struggling to stand out from their competition, they were falling behind in their service offerings.
"As far as providing a customized approach and cutting edge service solutions to customers, it was dull and I was frustrated. The technology we used was ordinary. We couldn't 'wow' our customers."
In 2016, Guard-Systems was using a Deggy system along with pen and paper reporting. Nothing stood out when bidding for new contracts. Officers felt no ownership in their jobs because they knew reports were just going to get filed away where no supervisor would ever read them.

Finding a Partner in a Software Solution
3 years ago, Guillermo finally decided enough was enough. It was time for a change, and he knew that a new guard tour technology was the answer. The only roadblock was deciding on which one to go with.
"If a company is successful it will grow. We wanted to partner with a company that would grow with us. We wanted software that we knew was going to continue developing as technology continues to advance."
After researching the top guard management software solutions, Guillermo found the perfect partner in Silvertrac.
"There were a lot of companies that offered a million features, but I didn't need a million features. They were just going to confuse our officer teams. I needed a few specific features done really well. Silvertrac was spot on with everything we needed in our solution."
Taking the Leap Into Guard Management Software
Change in a company is never easy. Even though Guillermo had decided Silvertrac was the answer for the future success of Guard-Systems, he and his customers had their doubts.
Guillermo and many of Guard-Systems' clients were worried that officers wouldn't have the right skill sets to use technology that seemed so advanced. They were also concerned that converting to technology was going to be a complicated process that took a long time to implement - time he didn't have.
"We had to convert about 25 accounts right away when we made the switch to digital reporting, which was a big undertaking. That included training all of our employees and bringing customers up to speed."
Luckily, the transition to technology was smoother than he could have ever imagined.
"That 30-45 day window was a complete success. My operations team had no real challenges or delays while they converted accounts to the technology, which I fully credit to Silvertrac and their amazing support team."
A Game-Changer for Officers & Clients
Since implementing Silvertrac, Guillermo has noticed a positive shift in his management team. This shift came once officers started to familiarize themselves with the technology.
"As we got further into the transition to digital reporting we noticed that officers felt like they had more control. They felt more useful, more a part of something. They saw that their job was being paid attention to and reviewed. Someone actually cared about what they were doing."
Not only are officers now excited to use Silvertrac at all active sites, they expect it at every new bid that Guard-Systems brings in.
And it doesn't stop there. Because the entire operation has made the most out of using Silvertrac - from the field to the back-office - including Silvertrac in the sales pitch at Guard-Systems is now a no-brainer.
"Anytime I'm talking business and our service delivery, Silvertrac is part of the conversation because it ties into every aspect of how our operation is doing. I credit Silvertrac with a lot of our success. It has made us look good to our customers and improved our service offering."
If you're looking for a way to stand out from your competitors, you're not alone. Schedule a demo with Silvertrac today and see how the world's highest-rated physical security software can give you an advantage for your business.