The Top 19 Blogs and Publications for Security Professionals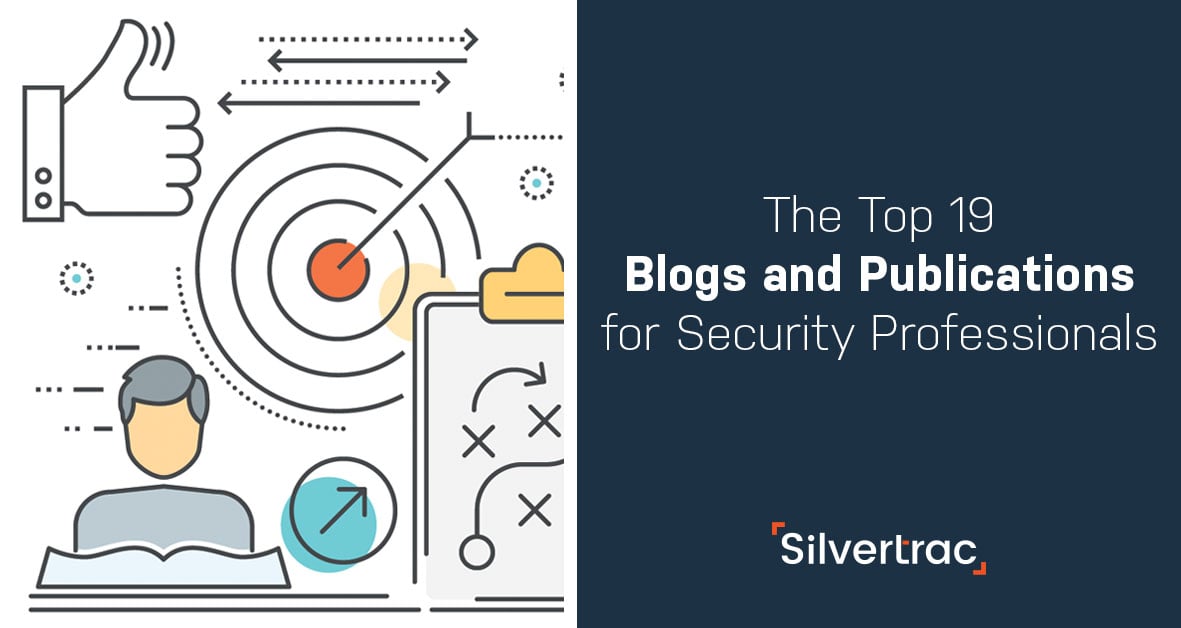 The Security industry is an evolving and changing sector. Luckily, there are amazing resources available online to help physical security professionals grow their knowledge and skill set.
Here are 19 blogs and publications that cover a broad range of topics from security, law enforcement, sales, marketing, finance, security operations, and more.
#1 ASIS Online
The American Society for Industrial Security, better known as ASIS, is considered the premier source for learning, standards, research, and networking. Their publication, Security Management Magazine, is an excellent source of useful industry knowledge.
Recommended Read: Building a Professional Guard Force
Twitter LinkedIn Facebook YouTube
#2 SDM Magazine
SDM Magazine publishes articles regarding security management and technical solutions, specifically the sale, installation, service, and monitoring of electronic security systems. Follow their blog for business and operational trends affecting the security industry.
Recommended Read: The Sales Stars Column
Twitter LinkedIn Facebook YouTube
#3 Security Magazine
Security Magazine provides relevant news and information about the latest security equipment and trends. Follow their blog for helpful opinions from top security executives.
Recommended Read: The Management and Physical Categories contain applicable information for companies with a focus on guard services.
Twitter LinkedIn Facebook YouTube
#4 Security Today
Security Today is dedicated to providing members of the security industry with information focused on current trends, news, and products.
#5 Security Solutions Magazine
The award-winning Security Solutions Magazine website contains a wealth of information, including industry news, equipment, operations, and reviews.
Recommended Read: How to Stand Out From the Pack
Twitter LinkedIn Facebook YouTube Instagram
#6 Professional Security Magazine
Stay up to date with the latest security news and views by following Professional Security Magazine. This site offers an impressive video library of the latest security equipment and trends, as well.
#7 Security Info Watch
Security Info Watch provides security professionals with the latest product reports and reviews. Their industry discussion forum and Security 101 videos and podcasts are both excellent sources of current security news and product information.
#8 Officer Magazine
One of the top publications of the law enforcement community, Officer Magazine is great for security professionals looking to stay up to date on the law enforcement community. They also have a lot of training information that applies to security officers.
Recommended Read: Worst-Case Scenario…or Not?
#9 Ignite RMR
Dedicated exclusively to security industry marketing, the Ignite RMR blog publishes knowledgeable growth strategies and sales advice customized for security professionals. Although focusing primarily on alarm system companies, a lot of the same principles they teach and share here can be applied to companies providing guard services.
Recommended Read: Who is Your Director of First Impressions?
#10 Silvertrac Extra
Shameless plug here... At Silvertrac, we have been releasing tools, e-books, webinars, podcasts, and blogs for the better part of 10-years. If you can't find what you're looking for in our resources, drop us a quick note.
Recommended Read: Turning Average Security Guards into Top-Rated Employees