The Top 19 Blogs and Publications for Security Professionals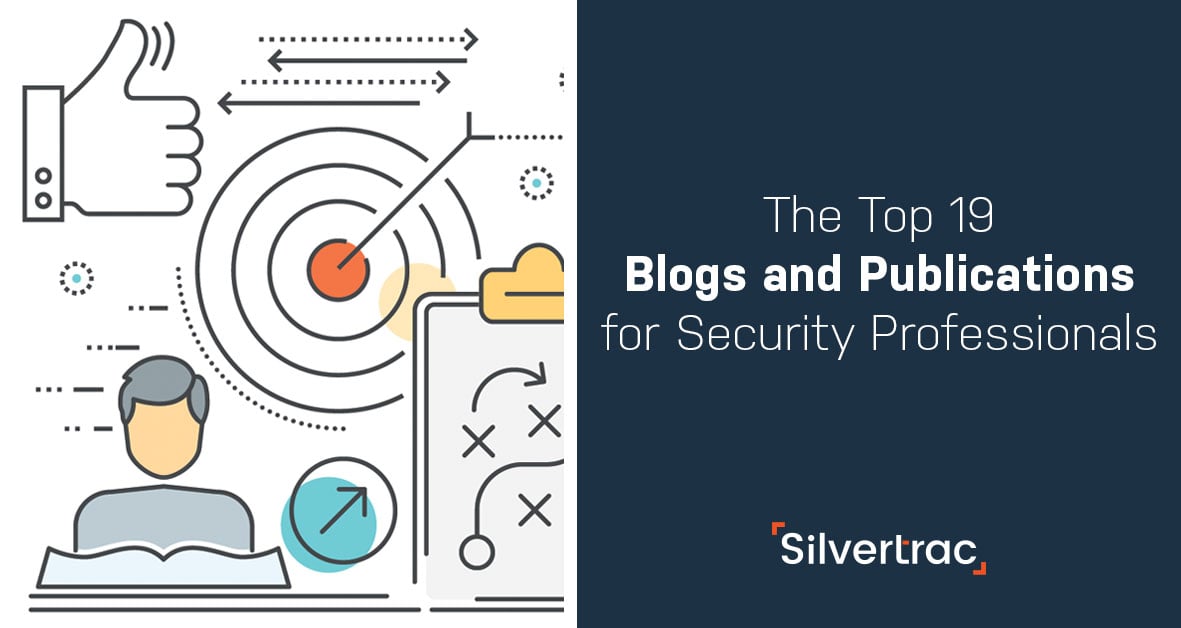 The Security industry is an evolving and changing sector. Luckily, there are amazing resources available online to help physical security professionals grow their knowledge and skill set.
Here are 19 security blogs and publications that cover a broad range of topics from security, law enforcement, sales, marketing, finance, security operations, and more.
Digital Security Blogs
The internet has made security topics like officer training, business development and news accesbile 24/7/365. Here's some of the online security blogs we keep up with frequently:
1. ASIS Online
The American Society for Industrial Security, better known as ASIS, is considered the premier source for learning, standards, research, and networking. Their publication, Security Management Magazine, is an excellent source of useful industry knowledge.
Recommended Read: Building a Professional Guard Force
Twitter LinkedIn Facebook YouTube
2. SDM Magazine
SDM Magazine publishes articles regarding security management and technical solutions, specifically the sale, installation, service, and monitoring of electronic security systems. Follow their blog for business and operational trends affecting the security industry.
Recommended Read: The Sales Stars Column
Twitter LinkedIn Facebook YouTube
3. Security Magazine
Security Magazine provides relevant news and information about the latest security equipment and trends. Follow their blog for helpful opinions from top security executives.
Recommended Read: The Management and Physical categories contain applicable information for companies with a focus on guard services.
Twitter LinkedIn Facebook YouTube
4. Security Today
Security Today is dedicated to providing members of the security industry with information focused on current trends, news, and products.
5. Security Solutions Magazine
The award-winning Security Solutions Magazine website contains a wealth of information, including industry news, equipment, operations, and reviews.
Recommended Read: How to Stand Out From the Pack
Twitter LinkedIn Facebook YouTube Instagram
6. Professional Security Magazine
Stay up to date with the latest security news and views by following Professional Security Magazine. This site offers an impressive video library of the latest security equipment and trends, as well.
7. Security Info Watch
Security Info Watch provides security professionals with the latest product reports and reviews. Their industry discussion forum and Security 101 videos and podcasts are both excellent sources of current security news and product information.
8. Officer Magazine
One of the top publications of the law enforcement community, Officer Magazine is great for security professionals looking to stay up to date on the law enforcement community. They also have a lot of training information that applies to security officers.
Recommended Read: Worst-Case Scenario…or Not?
9. Campus Security and Life Safety
Campus Security and Life Safety is a great resource for professionals with a focus on campus safety and/or goals of winning business in the education sector. Their publication Security Today reviews airport, campus security, life safety, and offers interactive training courses on the latest security technology.
Recommended Read: Developing Effective Lockdown Procedures
10. Thinkcurity
Physical security's newest source for free articles, webinars, resources & tools all designed to help security professionals get ahead in the industry. Thinkcurity was founded in summer 2019 as a monthly webinar series and has exploded onto the scene as one of the top online resources for information directly from security experts & thought-leaders.
11. Ignite Security Marketing
Dedicated exclusively to security industry marketing, the Ignite RMR blog publishes knowledgeable growth strategies and sales advice customized for security professionals. Although focusing primarily on alarm system companies, a lot of the same principles they teach and share here can be applied to companies providing guard services.
Recommended Read: Who is Your Director of First Impressions?
12. Silvertrac Extra
Shameless plug here... At Silvertrac , we have been releasing tools, e-books, webinars, podcasts, and blogs for the better part of 10-years. If you can't find what you're looking for in our resources, drop us a quick note.
Recommended Read: Turning Average Security Guards into Top-Rated Employees
Twitter LinkedIn Facebook YouTube
Security Associations
Besides the blogs above, some of the largest private security associations in the United States and abroad curate content on a consistent basis. These are some of the organizations we go to first to keep up with industry news.
13. Security Industry Association
The Security Industry Association features relevant information and insightful articles. Read the latest news and information from security industry experts here.
Recommended Read: GDPR and the Security Industry
Twitter LinkedIn Facebook YouTube
14. NASCO
The National Organization of Security Companies (NASCO) strives to set a standard of excellence as a leader of the security industry and provides industry news and information on updates regarding upcoming security events.
15. Private Officer International
Private Officer International states that their mission is "To enhance professionalism in the security industry through the establishment of standards, the promotion and promulgation of ethics and education, and to engage the political process for the good of the industry."
16. Property Management Insider
For security professionals serving property managers, Property Management Insider can help you understand their world and become a better partner by monitoring industry trends.
Recommended Read: 15 Theft Prevention Tips for Property Management Companies
17. CALSAGA
The California Association of Licensed Security Agencies, Guards and Associates (CALSAGA) is a knowledgeable voice of the industry and has an informative quarterly newsletter. You can sign up for the newsletter here.
18. ASSIST
Associated Security Services and Investigators of the State of Texas (ASSIST) has maintained a key role in the molding of the private security regulatory environment for 20 years in Texas. Check out Managing Security Today Magazine for informative articles regarding the business practices, regulations, and technology of the security industry.
Suggested by Our Readers
The resources listed below have been suggested by our readers! If you'd like to see additional resources added to this list contact us or leave a comment below.
19. The El Dorado Insurance Agency Blog
For 50+ years El Dorado Insurance has been providing specialized insurance private security companies. Their newsletter, "On Guard", is great for companies with a focus on security guards, alarms, and private investigation.
Recommended Read: 7 Qualities Every Security Guard Should Have
Bonus: Robert H. Perry & Associates
With an impressive track record of over 30 years of experience, Robert H. Perry and Associates represents security guard companies and offers amazing resources for those considering buying or selling within the industry. Subscribe to their publication here.
Recommended Read: Check out a webinar we recently did with Robert regarding the State of the Physical Security Industry (now available on-demand).
Are there any publications or resources we missed? Let us know! Leave a comment below or contact us and we'll add it to the list!
Thanks for reading!