2 Ways Guard Tour Software Improve Physical Security Services
Kodiak Security Services, Inc. was founded in 1996 in Spokane, Washington. They employ 72 security officers and their main contract is with Spokane International Airport. They oversee landside and airside security at the airport.

Landside services include ground transportation enforcement for taxis, buses and other vehicles. It also includes assisting passengers with directions city information, and baggage. Airside security includes all airport operations past TSA. They run spot checks on vehicles and ensure that restricted areas don't have trespassers.

Kodiak has seen a lot of success since they implemented Silvertrac in 2016. See how Kodiak has used guard management software to:
Decrease complaints about TSA by 50%
Reduce shift-check in-time for an entire team to under 5 minutes with NFC tags
Because running security services at the airport is the largest part of Kodiak's operation, that's where we will focus our attention. If you'd like to learn more about Kodiak Security and the industries they serve, check out their website here.
NOTE: During the COVID-19 pandemic, the county fairgrounds that Kodiak normally contracts with has converted into a COVID-19 testing site and has continued to use Kodiak's security services to assist with the operation.
Decreasing TSA Complaints by 50%
Kodiak has had a security contract with the Spokane International Airport since the 1990s. Since 2001, when TSA was created, they have moved to land and air-side services.
It's not exactly a secret that people don't get along well with TSA agents. Most of the time complaints come from TSA agents confronting passengers about the strict rules of passing through security (emptying pockets and water bottles, taking off shoes, etc...). The CEO of the Spokane International Airport wanted to change that. With the help of Kodiak, he came up with a system called Queue Line Assistance (QLA).
"A Kodiak security officer will pre screen passengers before they get to TSA. Officers check boarding passes to see if they are TSA pre-check or general screening, inform passengers of liquids rules, and give them information about how to get through TSA screening a little easier."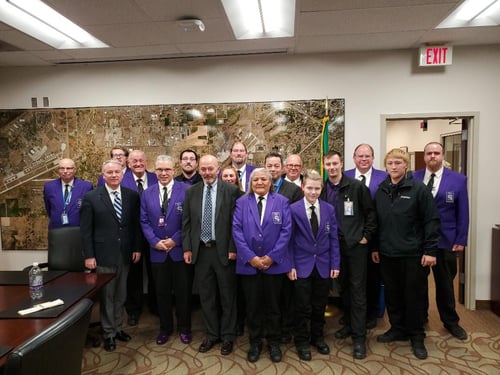 At first, the relationship between Kodiak officers and TSA agents was a little bumpy. But Kodiak gained the trust of the TSA by having a top-rated security reporting system in Silvertrac. Now, the TSA agents and Kodiak officers work together really well, and the results have been amazing.
"If you go to any airport website or Facebook page, 90 percent of the complaints are about how they were treated by TSA. Complaints about TSA dropped by 50 percent after we implemented QLA. And the TSA is a lot more trusting of our contribution because we have the reporting to back up our services."
Better Shift Management with NFC Tags
Before Silvertrac, the clock-in process for the security teams at Kodiak was inefficient. Every security officer on a shift would have to go to the office at the airport and call-in to the main office.
Getting officers on their posts and guard tours took too much time, especially in the early morning, when the first flights of the day were taking off and an entire team needed to clock in at the same time.
To solve this problem, Kodiak started using Silvertrac in a very unique way. Every security officer that worked the airport was given an NFC tag to put on their ID badge. They created a property in Silvertrac for clocking in and out. Instead of physical checkpoints, each employee became a checkpoint and clocked in using the NFC tag.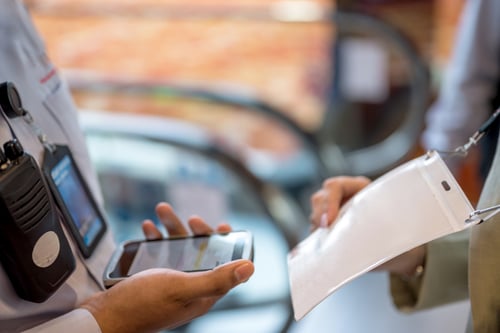 "I thought I might be pulling my hair out to get the officers to clock in this way, but they've actually really taken to it. They appreciate that it saves them a lot of time and a lot of hassle when they need to start a shift."
Now, when 8+ officers need to clock in quickly at 3:30 am, they can do it in less than 5 minutes. Getting creative with the checkpoint patrol systems in Silvertrac has allowed Kodiak to get much more efficient in their operations.
As you can see with Kodiak Security Services and the Spokane International Airport, Silvertrac can be used in a variety of situations, verticals, and organizations to get measurable results for your security operations.
Need more proof on how Silvertrac has helped security companies of every size around the world simplify their operations and prove their value to customers? See more of our client case studies here. Or, if you're ready to see how Silvertrac can make a difference in your organization today, schedule a demo to learn more about the software.