093: How To Win Approval From HOA Board Members
December 30, 2015, 4:00 PM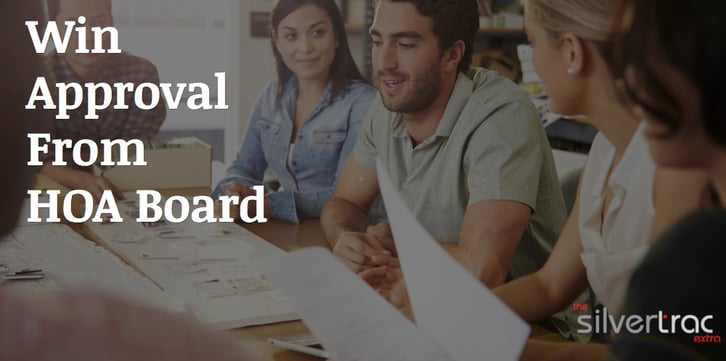 Growing your business through an HOA contract is one of the most political buying processes you will be part of as a security company. When you enter these meetings, you don't enter a board room: it's a war room. You can find one group has a bone to pick with the people who favor the contract, and they aren't going to sign the contract because it would mean agreeing with their rivals on the board.
HOA boards can be the hardest to sell. We're going to give you tactical approaches to position your proposal and then make that contract long term.
Do Your Homework to Win HOA Board Members Approval
The first thing to do is review the Community Code and Regulations. The CC&Rs is a legal document that controls the community. It makes sure people won't leave their garbage cans out too long, it controls speeding, it maintains a certain aesthetic and noise level. HOA board members are dedicated to protecting and improving the CC&Rs.
If you do your homework and know which ones are most important to the board members, that will put you a long way ahead. Look online for …
Minutes from past HOA meetings. You can see what topics have been discussed, so you know what the board's priorities have been, what complaints have been raised, what problems they have had.
Past HOA budgets. This can tell you how much is approved to spend on security, so you go in with the right price.
Do your best to speak with a resident. Especially if you see "For Sale" signs, it's easy to ask anyone you see outside walking what they can tell you about the neighborhood.
How to Win HOA Board Member Allies
Larger communities usually have a board member assigned to safety, security and parking. That person summarizes these issues at every board meeting. If you provide statistics to them, they can say "These five addresses account for 40 percent of the problems" or how often there have been speeding vehicles. When you make that board member's job easier, you've got their vote.
The same thing goes for the property manager. When she calls with a question, share the data that allows her to make a good report to the board. When you're taking your walk through the property, notify her of any issues you observe. That's one walk-through she won't have to take.
Demonstrate Partnership to Gain HOA Approval
It's one thing to offer the lowest price or the best dressed officers. But if you can display a track record of partnership, you'll win long-term HOA board approvals.
Demonstrate that you've held other HOA accounts, and understand that the CC&Rs are important. That shows that you have credibility in this industry.
Show that you are able to work well with other vendors. Be willing to report broken sprinklers to the maintenance team, do the lighting inspections on the schedules they request, give the management team the specific reports they need.
Showing that you understand the nuances of the HOA will make it really difficult for another company to take that contract away. Do your best to get your first HOA contract in a Level A property. The other business will follow.