095: The Top Referral Sources for the Security Industry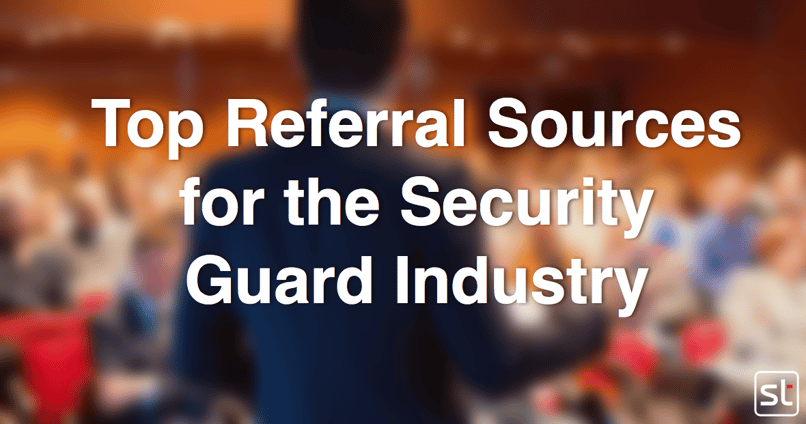 Believe it or not, business networking can be done in any industry of business, including the security guard industry. Networking can provide a great opportunity to meet people in connected industries, tell people about your business, and find innovative ways to help each other out in the business world.
Here is a list of referral sources you should be using and pursuing as a security company owner or business development manager.
Property management
Property management, property managers, or even members of the Homeowner's Association are great people to network with, as they would be the same people to hire a security team. Relationships in the property management industry also help you get a better understanding of the problems some of your clients may be facing.
Aside from possible new business, networking gives you a chance to talk more about your company and gives you confidence in your work.
Commercial Insurance
While you've got an insurance broker for your company, commercial insurance brokers also work with commercial properties, home owners associations (HOA)s, and other businesses, and they may be a part of other networking groups, or the local chamber of commerce - providing even more networking opportunities!
Bankers
Bankers, on the business development side, are often great networkers who are very connected in their communities. These bankers are often in search of working with big accounts, so networking with them could result in meeting some fruitful new contacts.
Sure, networking provides an opportunity to grow your business, it also surrounds you with positivity, and you can even gain new friendships from your business networking efforts. It's an all-around win-win.
Commercial Landscapers
The person that hires landscapers to take care of their commercial property is probably going to be the same person that would hire a security team. When you start networking, be sure to look for commercial landscaping companies, not residential (it's a totally different ballgame).
Networking with a landscaper can be a great opportunity for a back-and-forth relationship. Bring value to the conversation by talking about the liabilities you've seen on similar properties that could affect the landscaping company.
Painters
Although painters may be hired less-frequently for the same property, the painters are going to be working with the same customers that a security team would be working with.
A painter may also be familiar with the property and why it needs a security team, so networking in this area could gain new business and even more referral sources. After all, it's the painter that comes on site to repair all the graffiti issues.
Inspectors
Inspectors, particularly construction inspectors who are the ones performing building inspections, are often very well-connected in the community. These inspectors may be able to point you in the right direction if you're trying to figure out who to talk to for security purposes.