064: Customer Spotlight - GMI's Transition From GuardTrax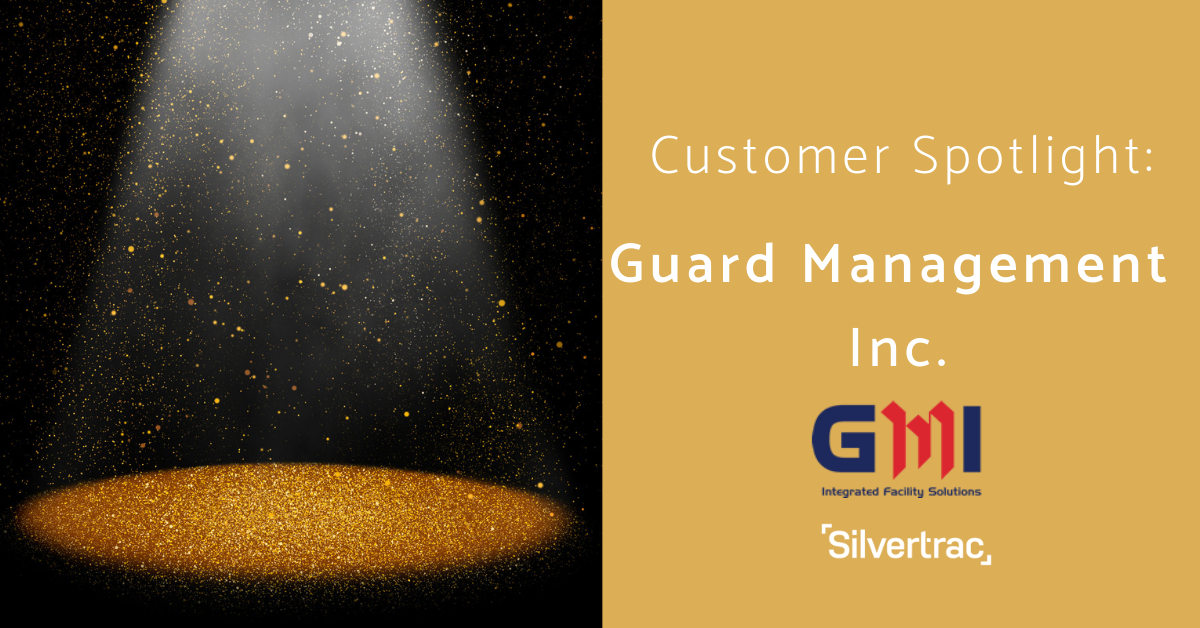 And… we're back!
Johnny and I took a week off from the Silvertrac Extra to visit the ASIS Security Expo. We had an incredible time meeting experts in the field, attending to seminars, and having conversations with our customers about their needs and the way they use Silvertrac.
Now we're back, and we'll resume putting up new episodes and blog posts every Monday, Wednesday, and Friday. We discovered a ton of great ideas for episodes at ASIS, starting with today's conversation with Melanie Bamba, a business development manager with Guard Management, Inc (GMI) in San Diego.
This was a spur of the moment conversation that we recorded with while at ASIS, so it gives you a very candid reaction to how our guard tracking software has impacted her business.
Before And After Silvertrac
Melanie started with GMI as a client service manager and then moved into sales. She's been there for two years, so she's been there both before and after the transition. From the business development standpoint, she found the software's versatility and capabilities useful in communicating their value to property managers.
"A lot of our property managers, it's not just one property or two, they have five or six they're looking at, and they want to see that overview," she told us. "That's really nice on the property manager side, to be able to visually see what all they're properties look like in one place."
She's found that property managers especially like using the centralized client Issue Monitor, which allows them to search for and review reported issues across their various properties.
GuardTrax To Silvertrac
GMI had been using GuardTrax, which focuses mostly on tracking the movement of officers to increase accountability. Melanie likes how Silvertrac, in addition to giving property managers an overhead visual of the guards' locations, integrates that functionality with reporting tools, so that they can see which guard is reporting, where from, and when.
"With our (old) portal, they would either have an e-mail, then they'd have to log in to GuardTrax, so they'd have to request a report from us, then they'd have to look at it separately, and those still wouldn't be timed to the specific reports. Here you're able to pull up the photos, see which officer did it, it's very effective and very useful."
Pitching Silvertrac To Customers
"We walk in there and we've already got our own examples," Melanie told us about how she sells the value of Silvertrac to property managers. "We might have a demo that we use, but we'll show them live, 'this is what the officer's doing.'"
They show managers examples of how you can see issues with officers in real time and using the Silvertrac App on her phone she can file a report from right there in the conference room to show managers how instantaneous it is. This drawing on experience using the software to sell it to customers is exactly what we recommended in our "3 Characteristics of Successful Silvertrac Customers."
In terms of retention, Melanie uses the customizable reports available to quickly and effectively address customer concerns. For instance, around the end of the year when everyone starts wanting to know data on what the primary issues have been, she can quickly pull up the Issue Summary Report and show them exactly what the officers have been doing all year.
That's an extremely powerful retention tool to be able to draw upon. When budget season comes around and managers might look at the security contract as a place where they can make some cuts, it's nice to have a handy report available that shows what your officers have been doing and how they've added value.
In terms of how Silvertrac has impacted GMI's retention, Melanie responded, "It is absolutely great, I haven't had anyone shy away from it. I've been pushing more people to it and converting our existing clients over to it as opposed to GuardTrax."
What Can Silvertrac Do For You?
Most of the customer spotlights we've done so far have featured companies transitioning from written reports, but this conversation shows how Silvertrac can add value even above a GPS/geofencing tool.
If anything Melanie said stood out to you, and you think that Silvertrac could add value for your business, give us a call or schedule a demo. We love talking with security operators about their business needs and how our software can make their lives easier.