Recommendations for Guard Managers and Operators: Hire Slow, Fire Fast
February 8, 2019, 5:03 PM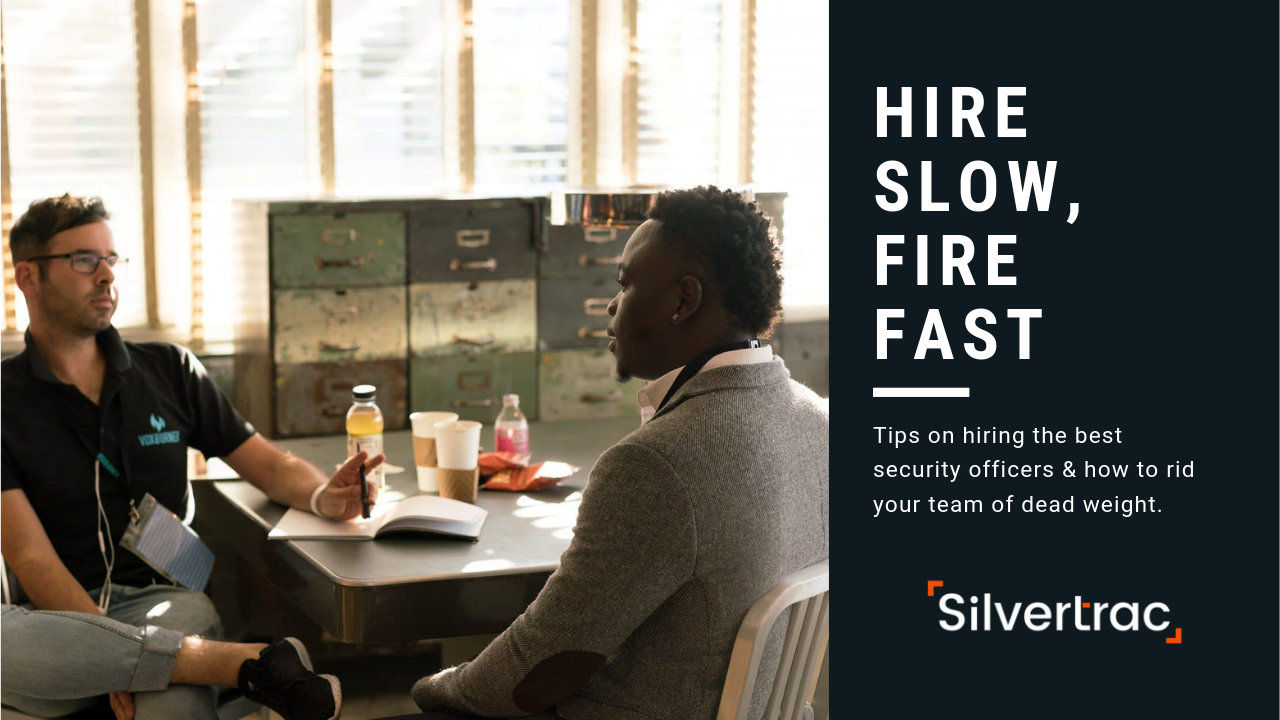 Hiring new guards is an investment.
You're spending time and money on training, and you want to hire people who will help take your business to the next level.
Gone are the days you could post an ad on Craigslist, and pick up everybody in one day. Now, the economy is doing better, guards are more expensive, and job applications are scarce.
As a guard manager, it feels like time works against you. It's hard to interview, train and give post orders to every new guard — and a lot gets thrown out the window.
It's tough to sort out good candidates, and even tougher to let them go — primarily if you've invested time and money on them. However, these are the guys and girls you trust to deliver excellent service to clients and retain contracts. So establishing hiring and firing best practices is critical.
The solution? With a little extra time and effort, you can improve your employee on-boarding process and ensure new employees will work for the greater success of your business, and not against it.
It starts with building a solid hiring framework
It takes a certain kind of skill to hire guards successfully. Big companies have the help of an HR department, but most companies don't. Guard managers and operators are typically tied up and leave the application and interview process until the last minute.
More often than not, leads to guards on the job without a proper interview, background check, or training — which in turn leads to high employee turnover, poor quality, lawsuits, and potentially lost contracts.
To build a good hiring framework, follow the guidelines below to hire slow.
1. Keep applications coming in.
Lack of applications leads to hiring the wrong person in that they're unable to handle basic responsibilities, orders, or training. Most times you're in such a rush that you can't give appropriate training so they can even have a shot, and that hurts everybody — including your client.
A related problem is when new guards don't go through a proven interview process; rather they're rushed onto the job site. Much better if you slow down and talk to your guards during interviews — especially when they'll be on exclusive contracts.
Getting applications coming in on a routine basis is your lifeline. Even though it feels easier to get everything done quickly, more applications usually work better, and a security guard software can help you manage that and give you more time in the interview process.
2. Do a full background check on each potential guard.
Background checks seem obvious, but easy to skip when you need an urgent hire. Even simple things like guard licensing agencies not catching up with a license could be detrimental, because a criminal background may not show up right away.
Worse off, the missing background check leads to liability risks.
For example, you don't want to place a registered sex offender near a school. Or the guy with a theft background in a jewelry store. Placing the wrong guard in the wrong area leads to problems for the contract. Instead, take time to talk to potential guards and document any contract-critical information before hiring.
3. Look into prospects health concerns.
Minimize your workers' comp payouts by looking into prospects health claims. Your guard should not have multiple comp complaints, injury claims or cases pending — because you could be next. Rush hiring fails to account for this compared to hiring slowly.
4. Match shift hours with contract type.
A good grasp on a prospect's work hours helps you understand the best placement for them. The following are some, but not all, considerations when hiring:
On days when you need a guard on a public site with client interaction, it's important that you put someone there who is good with people.

On nights where you need a commercial site guard with minimal communication, place the older guy who doesn't want to talk to the public.

Need to stick someone in a security patrol car? It's probably your best bet to place someone friendly, over 25, and with a clean driving record for lower insurance payments.
While you need to be aware of your employees' strengths and weaknesses in a role, they also must take direction well. Your goal is for management or you to communicate with the right person, at the right time, so you can avoid liability and no-shows.
5. Steer clear of part-time guards.
There's always a risk that part-time guards won't be as loyal to your company as full-timers. Part-timers typically have jobs somewhere else, and often don't get benefits from your job. Many show up late, call out, or no show — unlike full-time employees who've invested time and rely on the job.
And if you like your uniforms and equipment, don't hire part-timers. More often than not you lose shirts, shoes, belts, and other supplied equipment. Because a lot walk out the door without earning enough even to collect their first paycheck.