What to Do if an Employee Falsifies Their Security Guard Report
November 24, 2016, 5:00 PM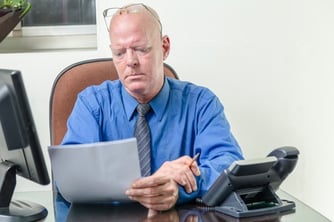 A falsified officer report can have serious consequences for your clients and your security business. When a security guard or officer provides false information within a client-facing security report, it must be dealt with swiftly.
An incident report has significant legal bearing and any errors, omissions, or outright falsehoods can result in the dismissal of the case. In some cases, it can lead to a lawsuit being filed on behalf of the perpetrator against your company. In the state of California, penal code 148.5 states that anyone who reports a false crime (misdemeanor or felony) & knows it to be false can be charged with a misdemeanor themselves and potentially face up to six months in county jail.
Once the report has been corrected, it is necessary to file it with the client, and with law enforcement. This should be done immediately. Along with the amended report, it is advisable to file a letter identifying the incorrect information filed within the original report and the corrective measures the company has taken. It is a black mark for sure, but it is necessary to accept responsibility and show that the company has taken the proper steps to correct the erroneous security guard report.
It is also advisable to terminate the employee's employment. A false security guard report is one of the most serious offenses a security officer can commit. It is not something that a company can take a chance on. Guards who file a false security report once will likely do it again in the future.
The next step that should be taken is to meet with the company's attorney. The employee will likely face criminal charges of filing a false police report. This does not necessarily mean that the company will face criminal charges, but there does exist the possibility that the client could pursue a civil claim against the security provider. Thus, consulting legal counsel is a wise step that shouldn't be delayed.
Finally, bring the team together and retrain you officers in the proper steps and procedures for filing accurate security reports. Make sure that they have a thorough understanding of the information they must include. During this training, remind them the importance of accuracy, and not including information that is an outright falsehood or extrapolation of known details.