Security Report Writing: Tips for Creating Pro Security Reports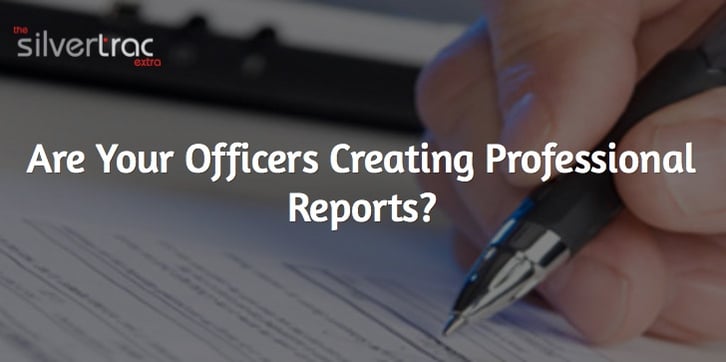 When I worked in the field, one of the biggest complaints I got from clients was that security officer reports were always poor in quality. Whether it's for hourly shift employees or guard supervisors, incident reports need to be legible, easily understandable, and usable if necessary as a legal document in court. Utilizing a security officer report software can help with reporting, however written communication skills are still needed.
It would be easy to think that anyone working in such a communication-oriented field would know how to write a legible and respectable report. Sadly, even with the constant pressure from clients, many don't. Some officers don't even know how to spell or use good grammar, even if they graduated from high school or attended college.
I don't consider myself to be an "expert" on the subject of effective report writing for the security industry. I didn't do all that well myself with grammar in high school, and I've only learned a little more in the intervening 36 years. However, I do know how to write security reports to help keep you, your officers, and your company out of trouble.
Language
Don't write using verbose or flowery language; this isn't a college level language class. Write your report like you're telling a friend what happened. Be conversational. Use as many direct quotes as you can.
And don't shy away from using foul language if someone else is using it and it's necessary for the report. Never use asterisk in place of the curse words, i.e. S*** or B******t.
Finally, be as concise as possible. Your customers are busy, that don't want to spend any more time reading reports than they have to.
Abbreviations
Spell out any abbreviated words in full the first time you us them, with the abbreviation right behind it in parentheses. From then on, just use the abbreviation. For instance, "Security Officer (S/O) Stevens and Police Officer (P/O) Roberts were joined by S/O Junie."
This saves time and space without creating unnecessary confusion for the client.
Timestamps
In all cases, record the times when you learn the information, not your guesses as to when something might have occurred. As nice as it would be, we're not actually capable of seeing through time.
Keep the report in chronological order as know the details. In other words, write the report with the details as the officer learns them. If a fight occurs at 0400 but the officer doesn't learn of it until 0600, then he starts the report at 0600.
Always, unless directed otherwise, use military time in security report writing. This helps to avoid and eliminate confusion when it comes to time frame.
If you have the tools in place to use specific timestamps, make your timeline as specific as possible. If not, use the word approximately, so that you are protected from questions of the reports accuracy.