027: The Pros and Cons of Having Your Guards Use Their Own Phones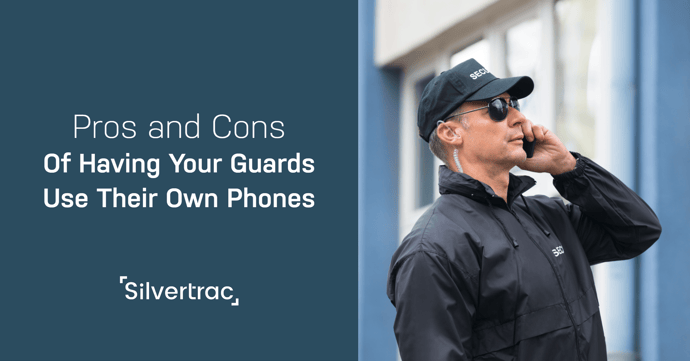 On today's episode, we discuss the potential for companies in the security industry to save money by having guards use their own smart phones on patrol, and the possible drawbacks of this strategy.
Listen, Rate, and Review this Episode in iTunes or Stitcher Radio:
How We Got Here
Just a few years ago, the idea of relying on employees to use their own smartphone or tablet would have been unthinkable. You simply couldn't expect all employees to have internet capable devices, and there were major concerns about security and efficiency.
Now, roughly two thirds of adult Americans own smartphones. These devices boast wide ranges of functionality and security features such as fingerprint scanners and remote wiping. A recent survey of Chief Information Officers (CIOs) found that nearly 40% expect to stop providing phones or tablets to employees and pursue a Bring Your Own Device (BYOD) strategy by 2016.
Pros
The primary advantage of having employees use their own devices is fairly obvious. Your company saves money by not having to buy the devices, service plans, and ancillary equipment (chargers, cases, etc.) required to properly carry out patrols. Plus, you save the time and effort of having to figure out which devices and plans are best for you, and that can be harder than it seems.
"If you're not familiar with the process, you can get taken advantage of as a company," I tell Johnny.
Think of the headaches that just one phone plan can cause. Now imagine you need 10 devices, and then you win a couple big new contracts and now you need 20 more, and you have to totally redo the contract with the phone company. There's a lot of room for them to slip in extra charges or hidden fees.
In addition, BYOD eliminates the costs of setting up these phones and training employees on how to use them. Each employee gets to use their preferred device, which the same Gartner survey linked to above finds leads to a marked increase in employee satisfaction.
"The employees are happier with the device they're using, they can work faster because they're on this device every day, and there's just a lot of upside to this," says Johnny.
An added bonus: you can provide your employees with customized cases bearing the company logo for their smartphones and tablets. It's a nice little perk for them, it makes them look more official on the job, and it's free advertising when they use their devices in their free time.
Cons
Data security constitutes the biggest concern for companies questioning whether a BYOD policy is the right way to go. As mentioned above, there have been security improvements on many newer smartphones. It's now much harder if the phone gets lost or stolen for someone else to access any data that might be on there.
Additionally, security companies don't have to worry about this as much, since most of their employees don't take their work home with them. They use Silvertrac (or another security app) while on patrol, and all that data immediately gets sent to the cloud, so they're not storing anything critical on the device itself.
Some employees report dissatisfaction over BYOD programs because they end up having to pay more for data on their personal phone plan. That's a pretty easy fix, however, as companies can offer a stipend for employees who use their own phone, which is still much less expensive than paying for the device entirely.
The last complaint would be that employees slack off more or get distracted with their own phones, but that's contradicted by the studies showing that employees are more productive using their own devices. Certainly customers we've spoken to that have pursued this strategy say it's worked out great for them.