What's This About?
Every month our Customer Success and Support Team report on support stats, new resources, feature updates and customer feedback. We have two goals in sharing this information. First is to help our team understand our customers' pain-points and successes. Second is to show that we are real people solving real problems. If you're not a current customer of Silvertrac, maybe you'll find that the grass really is greener on the other side.
Ultimately, this post is about giving our customers a voice within Silvertrac. Enjoy!
What's in this post?
March's Support Stats
New FAQ: What's the best way to ensure my guards are in the right location?
New Podcast: The Silvertrac Extra
---
March's Support Stats

Silvertrac uses a customer service software called Zendesk to manage all requests submitted by our customers. Throughout the month, email or phone requests are stored as a ticket with a complete history, resolution, and satisfaction rating. At the end of the month we receive stats that help our support team benchmark their performance to the rest of the software companies using Zendesk as well.
Silvertrac received 144 new tickets this month and have an average response time of 3.1hrs!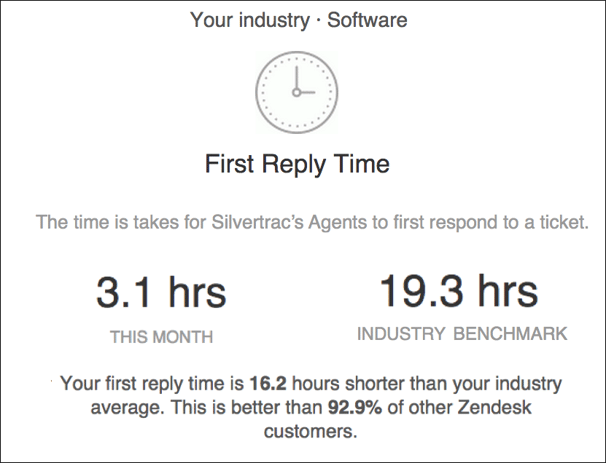 ---
New FAQ: What's the best way to ensure my guards are in the right location?
We get this question quite often as you might expect. Accountability is crucial and you need to know that your officers are doing their job. Here are a few ways to make sure your officers are where they are supposed to be.
Use the GPS feature for verification.

Silvertrac's GPS tool takes a snapshot of where the officer is when each issue is reported. You can use the GPS feature to verify that location and be sure that he or she was actually on the property. Keep in mind that the GPS feature can be sporadic depending on the strength of the cellular signal, the device being used, and other external factors. If you're looking for more pinpoint accuracy, try requiring photos with each issue.


Require a Photo

A picture is worth a thousand words, right? All photos captured using Silvertrac are date and time-stamped. This allows you to gain high visibility and really eliminates any question as to whether or not the officer was on site.

Believe it or not, this practice is used by more than 60% of Silvertrac's users. When you include pictures with all issues, it helps make everyone's job easier.


Use Checkpoints

Silvertrac's checkpoint feature allows you to place QR codes on a property for an officer to scan as they are doing their rounds. Even better than that, you can require that a photo is added to each QR code, just to eliminate any concern of the QR codes being duplicated.


Use Random Tasks and the Overdue Alert

You can assign tasks to be sent out at random times throughout the shifts and then enable an overdue alert of those tasks. If an officer is asleep or away from the site they won't be able to complete the task before you or your supervisor is alerted.
---
New Podcast: The Silvertrac Extra
Silvertrac recently launched a new podcast with the sole mission of equipping today's security operators for tomorrow's success. Chris Anderson and Johnny Page will interview successful business experts, security operators, property and facility managers, and law enforcement professionals to provide you with the tools you need to reach your goals. If you haven't had the chance to check them out yet, the first 3 episodes are listed below.